Peny Dania
Scientific Associate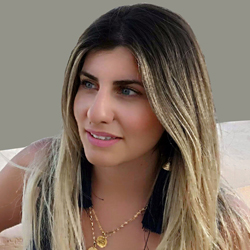 Peny is an architect. She holds a Masters degree in Architectural Engineering from the Technical University of Crete and a Master of Science, "Integrated protection of historic built environment with advanced technologies and materials" from the School of Architecture, TUC.
She is interested in the protection of the historic buildings and in 2018 she took a scholarship from the I.E.ME.ST (Instituto Euro-Mediterraneo di scienza e Tecnologia) in Palermo, based on the research of "Design of innovative mortars with high energy efficiency and photocatalytic properties". Also, for the period of 2018-2019, she was a member of the European H2020 Program Team: InnovaConcrete.
She is also interested in Digital Media for Architectural Design. She is involved in research based on VR and AR technology. Her research on Digital Cultural Heritage and on User Experience through Interaction Design has been presented and published in conferences such as eCAADe (Education and research in Computer Aided Architectural Design in Europe) and CHNT (Conference on Cultural Heritage and New Technologies).