NICOLETA CHATZOPOULOY
PhD Candidate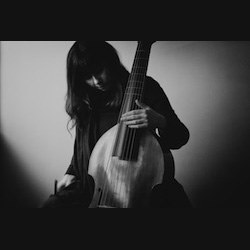 On Architecture and Music Composition : Developing theories and tools for spatiotemporal composition on the abstract, real and virtual levels
Under the continuous and patient guidance of supervisor Professor Panagiotis Parthenios and the advisory committee consisting of Professor Marcos Novak and Emeritus Professor Clarence Barlow.
A composition is a construction, whether in space, time, materiality, defined by a set of boundaries, internal rules and a set of choices which have been made as a result of a process. Whether this process is formal, intuitive or some combination of the two, determines not only the end result, but shapes a path in which the elements of the composition are used, developed and combined (or not). In my own work, I often use a combination of formal and intuitive processes in order to achieve a satisfying result based on an initial idea. This combinatory mode can also be extended to other levels, such as aesthetic, practical (instruments, technology) and discovering different sources of ideas (exo-musical, algorithms) . During my research on the relationship of architectural and musical thought so far, I have encountered different aspects of this relationship at the conceptual and compositional levels . Deeply rooted in ancient Greece, and particularly in the Pythagoreans, this relationship is enriched and advances hand in hand with developments in physics, computer science and instrument making, architectural engineering, artistic trends, through a dynamic symbiosis of the physical and the abstract in time.
This research focuses on developing a collection of theories and tools, which contribute to how sound – and organised sound – can be synthesised and composed, having space – and organised space – as the source. Four case studies have been created for the methodology, where the three fall into the title Theories of Spatiotemporal Composition, operating on three different levels: the abstract, real and virtual. The first case study, on the abstract level, focuses on sound synthesis and form (micro and macro) based on Point, Line, Plane by Kandinsky and Klee's theories. The second case study, on a real level explores the synthesis of sounds via granular synthesis techniques, based on a granular analysis of space. The third case study focuses on musical timbre and its relation and synthesis through space, having the potential to act as a transformative medium for space. Additionally, Project Chora is a case study which combines and explores the main ideas described in the three theories of spatiotemporal composition, and is based on the Ancient Roman Agora site in Athens.
Along a line of abstract geometrical shapes, physical attributes of space, granular synthesis, and virtual transformations of space through musical timbre, this research examines and proposes a new continuum of theories and tools for music composition. It also sets the basis for future investigation in the creation of a compositional tool for architects.