PANOS PARTHENIOS
Professor of Digital Media in Architectural Design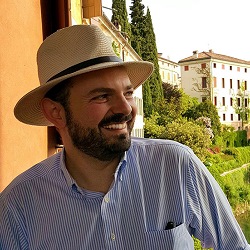 Short biographical note
Panos Parthenios was born in Athens, Greece, in 1976. He holds a Diploma of Architecture (2000) from Aristotle University of Thessaloniki, a Master of Design Studies Degree (2000) on Design and Construction Management from Harvard Graduate School of Design (GSD) and a Doctor of Design Degree (2005) on "Conceptual Design : Tools for Architects" from Harvard GSD. He has conducted research at the Harvard Center for Design Informatics and published several papers and articles. He has taught classes on digital media and IT at Harvard GSD and Boston Architectural Center. In 2009 he was appointed Assistant Professor of Architectural Design with Digital Media at the Technical University of Crete.
A 2000 Fulbrighter, he has been awarded the 2001 Harvard Digital Media Prize and the 2002 National Internet and Digital Media Prize in Greece. He has been selected among Europe's 40 most important emerging young architects for 2009, receiving the "Europe 40 Under 40" Award from the European Centre for Architecture Art Design and Urban Studies.
He is the co-founder of Parthenios architects+associates, an Athens based architectural firm, which focuses on design and construction-supervision of a wide range of projects, including private residences, office buildings, hospitals, museums, theaters, housing complexes and industrial and retail spaces. Their work has been published on several magazines and books, participated in exhibitions and distinguished on international architectural competitions.
Courses
Digital Media in Architectural Design Ι
Digital Media in Architectural Design II
Architectural Design Studio V
Architectural Design Studio IV
Advanced Digital Media
Research Interests
Smart cities.
Smart buildings and big data.
Computational tools for architects.
Composition in Architecture + Music.
Interactive applications and multimedia design.
Digital Media for Cultural Heritage.
External links
Contact
tel. (+30) 28210 37110
email: parthenios@arch.tuc.gr, panos@parthenios.com