CULTURAL HERITAGE
Virtual Reconstruction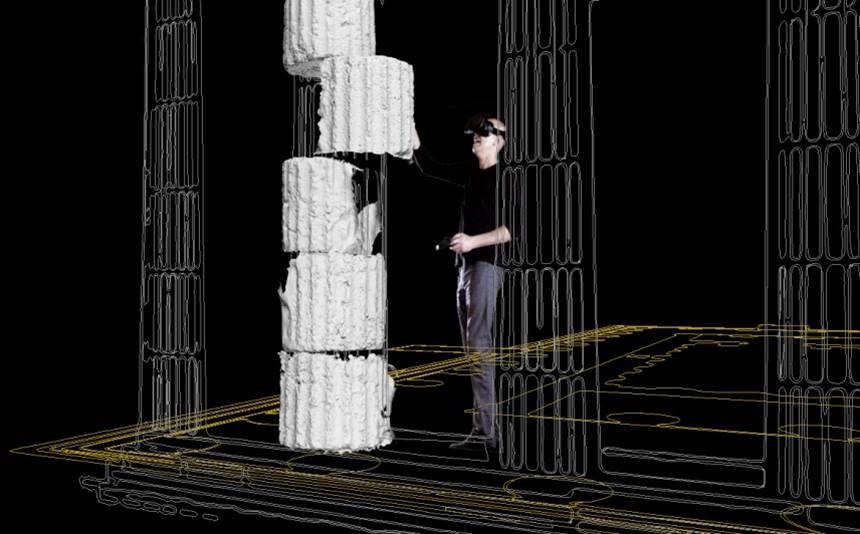 Virtual Reconstruction of an archaic column using Immersive Reality
The 3d models of five very heavy parts of an archaic column (constructed ca 540 BC) were used for studying and virtually reconstructing the complete column. The column was part of an archaic temple unique in size and in type for the area of Chania, in West Crete, Greece.
Structure from Motion technique was applied for the reproduction of high quality and accurate digital models of five sandstone drums. Specifically Agisoft Photoscan software was combined with fast, easy and low cost equipment.
Furthermore our research team is currently investigating ways to utilize immersive reality for the reconstruction of the archaic column. The five 3D models that were produced with the SfM, are being uploaded as .obj files into Google Tilt Brush. Subsequently the user can experiment by moving, rotating and scaling the individual 3D parts in a 3D environment in real time, in Vive HTC, thus drastically simplifying the digital reconstruction process for similar projects.
Research conducted at the Digital Media Lab, Technical University of Crete, in coordination with the Ministry of Culture of Greece, via Ephorate of Antiquities of Chania. 
Theano Androulaki
Panos Parthenios